A traumatic brain injury (TBI) is among the most catastrophic injuries one can suffer. Sudden trauma (either internal or external) to the brain can result in a coma, mild concussion, or even death. According to the CDC, around 1.7 million individuals suffer from a traumatic brain injury annually and approximately 80,000 will remain with a lasting disability.
Brain injuries are mainly a result of car accidents, falls, sports-associated accidents, and assaults. Nearly one-fifth of all TBIs are caused by motor vehicle accidents. Sustaining a brain injury can be destructive, resulting in permanent medical conditions and emotional struggles. This is where Winston Salem traumatic brain injury lawyer can help.
The sad truth is that the road to recovery is an uphill battle and quite costly. Don't let yourself suffer the physical, emotional and financial burden of an occurrence that wasn't your fault. If you or somebody close to you has suffered a brain injury in an accident caused by the negligent actions of another party, you may have grounds to pursue compensation.
The experienced Winston Salem personal injury lawyer at McIver Law Firm will assist you to file your claim and ensure that your rights are protected as you seek to recoup the compensation you are owed. Find out how we can help you by calling 336-727-9886 to arrange a FREE case assessment.
How Do I Know If I Have a Brain Injury?
The truth is that many of us only concentrate on visible injuries and wounds following an accident. However, accidents can results in severe or even fatal internal injuries which are hard to detect without the aid of a skilled physician and after performing some examinations, including a CT scan or MRI.
You will need to watch out for the signs and symptoms you are exhibiting to know whether you have sustained a brain injury. Symptoms of TBI can either be mild or severe and will be contingent on the degree and nature of the injury.
Symptoms may exacerbate if left untreated. Some symptoms may be evident after some hours, while others may begin manifesting after weeks. So, after being involved in an accident, make sure to consult with a doctor for a comprehensive physical examination.
What Should I Do If I Think I Have a Brain Injury?
Even if you can barely remember knocking your head after a collision, you should still get medical aid right away. It doesn't take much to damage the brain, even the slightest amount of trauma, hit, or bang is enough.
After being in an accident, and you think you may have sustained a brain injury, get medical attention first and look into consulting with a skilled Winston Salem traumatic brain injury lawyer for guidance.
Visit a Doctor
If you are conscious at the scene and you aren't sure you have a brain injury, go to the hospital to get a comprehensive checkup. The doctor will establish whether you are at risk of a TBI. They will perform tests and watch closely for TBI symptoms.
Undergo Treatment
Follow the doctor's instructions regarding prescribed medication, wearing a neck brace and getting certain exams done. When filing a claim, you will have medical records indicating you were diagnosed with TBI after your accident.
Talk with a Winston Salem Traumatic Brain Injury Lawyer
TBIs are complex. Symptoms may not be evident at first following the accident and may begin to manifest after some days or weeks. If you think you have a brain injury, consult with your attorney about your condition after the accident and the types of compensation you may require to cover temporary or permanent TBI symptoms.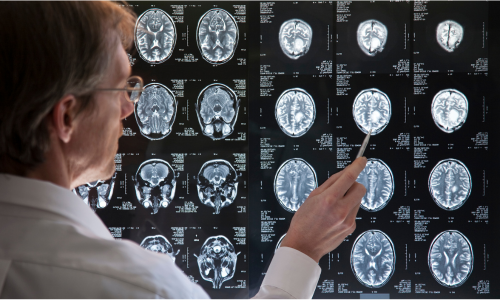 What Are the Symptoms of a Traumatic Brain Injury?
Similar to other kinds of injuries, conditions, or diseases, a traumatic brain injury is characterized by certain symptoms. Nevertheless, it is essential to note that symptoms of a brain injury vary from person to person and the type of injury you have sustained. It is also contingent on the seriousness of the injury.
An individual may be experiencing a mild brain injury if they exhibit any of the following symptoms:
Headache
Fatigue
Dizziness
Blurry Vision
Difficulty concentrating
Unconsciousness or confusion for a short time (less than 30 minutes)
Serious brain injury symptoms include:
Seizures
Loss of basic motor functions
Loss of memory
Nausea
Vomiting
Irritability
Unconsciousness for prolonged durations (over 30 minutes)
If you have suffered a brain injury because of somebody else's negligence, reach out to McIver Law Firm for help.
Why is it Important to See a Doctor After a Head Injury?
Brain injuries are not always apparent unless the skull has been cracked open in one way or another following an accident. Since it is an internal injury, the symptoms may take an extended period to start manifesting, and by then, the traumatic brain injury may have exacerbated. That's why visiting a doctor after a head injury is advisable as it will prevent additional problems that would otherwise turn fatal.
What Types of Compensation Can I Recover for a Brain Injury?
Calculating the precise amount of compensation you are entitled to in a TBI claim can be difficult given how the extent of injuries vary. The best way to determine a feasible compensation value is by enlisting an experienced injury attorney to handle this part of the claim on your behalf.
Insurance companies make money by collecting premiums, not fulfilling compensation claims. As such, they will always be looking to lowball the settlement offer, or completely deny the claim. A lawyer can assist you to get the maximum compensable amount possible for all losses suffered.
If you have suffered a brain injury because of a negligent party, you can recover the following compensation:
Past and future medical costs
Lost income and earning ability
Non-economic damages for emotional anguish, trauma, loss of consortium, and pain and suffering
Funeral costs, in the case of wrongful death
You can also be awarded punitive damages, but you'll need to prove that the other party behaved with gross negligence and caused your TBI. This type of compensation is given to act as a punishment to the defendant.
Are There Time Limits for Filing a TBI Claim?
In North Carolina, you have three years following the accident date to file your TBI claim. When you feel medically stable, enlist a Winston Salem traumatic brain injury lawyer right away to start legal proceedings and have a well-rounded case.
If the victim sustained a traumatic brain injury and died as a result of the accident, the case is categorized as a wrongful death claim, which has a two-year deadline to file.
Should I Hire a Winston Salem Traumatic Brain Injury Lawyer?
The process of filing a traumatic brain injury claim can be very complicated. Not to mention how the defendant's insurer will actively be working against your claim. This is why you should retain the services of an experienced Winston Salem traumatic brain injury lawyer like us at McIver Law Firm to help you recover the compensation you are owed.
We will represent you in various ways including:
Filing a TBI claim against the negligent party that caused your injury
Negotiating a settlement with the defendant's insurance carrier
Obtaining evidence supporting your claim
Interviewing and collecting witness statements
Representing you in court
Hire Our Winston Salem Traumatic Brain Injury Lawyer Today!
A severe brain injury can completely upend your life and change your perception. It will affect your daily life and will have a significant dent in your finances. This can especially be distressing if the injury wasn't your fault. If this has happened to you or a loved one, you have legal recourse and can hold the negligent party accountable.
Contact our Winston Salem traumatic brain injury attorneys at McIver Law Firm for help navigating this part of the law. Our legal team empathize with you and will work day and night to ensure you get your deserved compensation. Call us at 336-727-9886 to book a consultation and case review!