You should enlist a Winston Salem texting and driving accident attorney who can assist you recoup compensation for injuries and other losses suffered, if you or somebody close to you was injured in an accident caused by somebody who was texting and driving. Our legal team at McIver Law Firm have vast experience dealing with these sort of cases and can assist you build an airtight case.
Cell phones have become a crucial part of our lives, such that most people cannot do without them. These devices are very addictive and can result in devastating auto accidents.
Texting and driving is illegal in North Carolina, but it is far too prevalent as a lot of motorists still use their mobile devices to text while driving. Cell phone usage is just one of the several ways motorists can become distracted on the road, and distracted driving accidents are 100% avoidable.
The skilled personal injury attorneys at McIver Law Firm will assess your texting and driving accident claim and assist you fight for justice. Call us at 336-727-9886 to arrange a complimentary consultation.
What Are the Texting and Driving Laws in NC?
Per North Carolina General Statute section 20-137.4A, it is against the law for drivers to text and drive. Following this law, traffic officers are given the authority to stop a driver if they are texting. On top of prohibiting texting, it is against the law to read messages while driving.
If a driver is pulled over for texting or reading a message while driving, they may be subjected to a fine of $100, on top of court fees amounting to $130.
Hands-Free Devices: Drivers in North Carolina are permitted to use hands-free devices while behind the wheel. Over recent years, cars come equipped with Bluetooth connection capabilities to make and receive calls, as well as read and reply to messages.
Under 18 Drivers: North Carolina prohibits any and all device usage for drivers under 18. The exception is if they are talking with law enforcement, an emergency operator, or a guardian or parent.
How Does Texting Affect Your Driving?
The risks affiliated with texting and driving are a result of a lack of concentration that transpires when reading or replying to a text. Using a phone removes the attention of the driver from the road, nearby pedestrians, and other vehicles thereby affecting their driving.
Research shows that your reaction time doubles due to texting while driving. This means that it will take you around three to four seconds to react if you're driving distracted compared to one to two seconds if you weren't.
What's more, motorists who text as they drive are unlikely to:
Maintain ample distance between their vehicle and others
Stick to a constant speed
Remain in their lane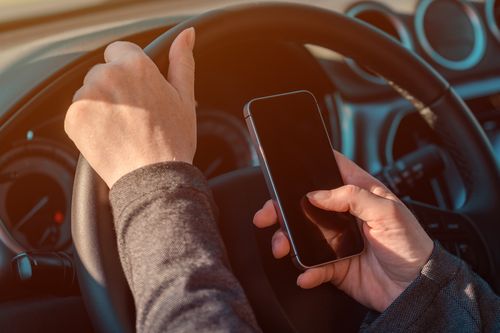 How Can You Prove the Other Driver Caused an Accident Due to Texting While Driving?
Proving liability for the texting and driving accident needs a thorough legal approach. The first step in proving the validity of your claim is collecting statements from everybody involved in the accident, including witnesses and police reports. Witness statements from a credible source may be sufficient to close the case.
You can also use traffic cam recordings, CCTV footage or internal dash cam cameras to show the driver was texting. Reviewing the phone records of the other driver is perhaps the most effective way of determining whether they were texting in the moments leading to the accident. At McIver Law Firm, we have the resources to carry out an independent investigation and gather supporting evidence that proves your claim.
Why Do I Need a Winston Salem Texting and Driving Accident Attorney?
Enlisting a Winston-Salem texting and driving accident attorney will make the claims process easier and help you get maximum compensation for injuries and losses suffered because of the distracted driver. Our Winston Salem texting and driving accident attorneys at McIver Law Firm can assist build you a concrete case in the following ways:
Conduct a thorough investigation into the accident
Acquire and compile supporting evidence
Compute the financial implication of the accident
Consult with physicians and accident reconstruction professionals about the accident
Negotiate settlement offers with the insurer
Offer representation in court, if need be
How Much Will a Lawyer Cost?
When in need of legal counsel, you may have some reservations when it comes to cost. When you enlist our Winston Salem texting and driving accident attorney, you don't need to be concerned about this yet. We provide our legal expertise on a contingency fee plan, where you won't be required to pay us any upfront fees to begin legal proceedings. You pay us if and only if we win!
How Long Do I Have to File a Claim in NC?
If you want to take legal action and pursue your claim, you have a time limit of three years following the accident date, according to G.S. § 1-52. If you don't file your claim within this time, you will be relinquishing your rights to seek compensation.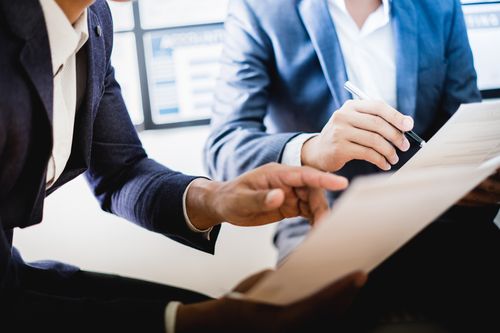 Consult With Our Winston Salem Texting and Driving Accident Attorneys Today!
If you or a loved one has been the victim of a texting and driving accident in Winston-Salem, we can assist you to seek the justice you deserve. Our Winston Salem texting and driving accident attorney will prove the liability of the other driver and ensure they pay for their negligence.
Please reach out to our team at McIver Law Firm to discuss your legal options in a no-cost and no-obligation initial consultation. Call us now at 336-727-9886.