Motorcycle enthusiasts know that their ride is more than a means of transportation. It is an enthralling pursuit that brings joy to millions of people every year. Now imagine cruising down the road, and then having to veer off the road to avoid a collision or actually getting hit out of the blue.
Things occurred too fast –and you weren't responsible for the crash. Because of their weight, size and lack of safety and protective features associated with other motor vehicles, there are a range of factors that go into dealing with a motorcycle accident case.
If you or someone close to you has been involved in a motorcycle accident that wasn't your fault, you have grounds to seek reimbursement for medical costs, pain and suffering, and lost earnings you have suffered.
The Lewisville motorcycle accident lawyer at McIver Law Firm has an excellent track record of getting fair compensation for accident victims and will advocate on your behalf to make sure you get a favorable case outcome.
Learn more about how our Lewisville personal injury lawyer can assist you by calling 336-727-9886 to book a FREE consultation!
What are the Most Common Causes of Motorcycle Accidents?
Most motorcycle crashes are preventable. However, accidents occur all the time and the vulnerability riders face can result in serious injuries if they get into an accident.
In fact, two-thirds of motorcycle crashes involve a vehicle, most a passenger car. So, it's essential to know the reason for the accident to avoid getting involved in a motorcycle collision. Common causes of motorcycle accidents include:
Distracted Driving: When a motorist is busy texting and driving or engaged in any form of distractive behavior, they won't see a motorcycle on the road and cause a collision.
Driving Under the Influence: Driving while intoxicated can impair the driver's ability to drive safely, which leaves more likely to make an impaired judgement that leads to a collision.
Equipment Failure: Poorly manufactured or defective components of the motorcycle components can result in a serious crash, especially when equipment failure occurs while riding at high speeds.
Motorists Not Seeing Motorcyclists: Motorists may not pay attention to oncoming motorcycles and make a sudden left turn in front of them causing a head-on collision.
Unexpected Obstacles in the Road: Pedestrians may cross the road at undesignated zones and make the rider lose control of the motorcycle and injure both of them. Also, debris, potholes, and lack of road signs increase the likelihood of a motorcycle accident.
How is Fault Determined in a Motorcycle Accident?
Determining who is to blame for the motorcycle accident can be a daunting task, and usually needs a thorough investigation of the specific circumstances of the case. For you to have a valid case, you must prove the other party acted negligently and caused the accident. To determine fault in a motorcycle accident, you must prove the following elements:
Duty of Care
You will have to show the other party owed you a duty of care. This element can easily be met because all motorists on the road have a responsibility to care for other road users. And this is by obeying all traffic regulations and laws.
Breach of Duty of Care
You will need to prove that the other party infringed on their duty of care to others on the road. This can be by speeding, driving while intoxicated or running a red light.
Causation
You will need to prove that because they breached care, their actions caused the crash and led to your injuries. Proving this element of negligence is the hardest.
Damages
Because of the crash, you suffered economic, non-economic damages that you wouldn't have suffered were it not for the motorcycle accident.
Reach out to our skilled motorcycle accident lawyers at McIver Law Firm to find out how we can assist you to prove all four elements. Our team will carry out an independent investigation and collect supporting evidence that allows you to seek your deserved compensation.
What Compensation Can I Receive for My Injuries/Damages?
Motorcycle accidents damages are similar to the damages one can receive from a car accident. Such damages could include:
Economic Damages
These damages are calculable and can be given a monetary value. They include:
Medical costs and future costs for medication, physical therapy, and other treatments.
Lost wages and earning capability of the victim is physically disabled to go back to work
Property damages, including any replacements or repairs
In-home care
Non-Economic Damages
These damages cannot be quantified and are intended to compensate the motorcycle accident victim for the non-monetary losses they have suffered. They include:
Mental anguish and trauma
Pain and suffering
Loss of companionship
Physical disfigurement and impairment
Punitive Damages
Punitive damages are rarely given in motorcycle accident claims but may be awarded if it is proven the plaintiff acted with malicious intent or gross negligence. They are intended to act as punishment to the at-fault party and deter others from acting similarly.
Should I Receive Medical Attention Even if I am Not Hurt?
Injuries are almost assured when it comes to motorcycle accidents given how the rider is exposed to external elements directly. So even if you don't feel hurt, it is essential that you seek medical attention right away.
You may have suffered internal injuries that are not evident at first but may exacerbate as time lapses. The only way of knowing that you are in tip-top physical condition is by getting examined by a qualified doctor to establish the full extent of your injuries.
If the doctor clears you, then you're good. Also, you'll want to keep the medical documents of tests conducted on you. This may help seal the case if you decide to file a motorcycle accident claim.
How Much is My Accident Claim Worth?
There's no direct answer to the worth of your claim since each motorcycle accident is unique. Each has economic damages, non-economic damages and situational details that must be fully reviewed and taken into account when negotiating the compensable amount.
A seasoned motorcycle accident lawyer can assist you establish all the damages and losses suffered from your motorcycle accident and can formulate a case that correctly represents the circumstances of your crash, and negotiate with the insurance carrier.
The Lewisville motorcycle accident attorneys at McIver Law Firm can help compute the full compensable amount you are owed.
How Long Do I Have to File a Claim?
According to the North Carolina statute of limitations, motorcycle accident victims have 3 years following the accident date to submit their claim. Usually, insurance carriers will run down the clock by stalling negotiations, knowing fully that the case will be deemed void once this period lapses.
Contact a skilled accident lawyer to help you gather proper evidence and file your claim within the stipulated time period.
Reasons Your Motorcycle Accident Claim May Be Rejected
If you got involved in a motorcycle wreck caused by a negligent driver, you may think that you will be compensated for your injuries and losses by their insurer. However, a lot of claims end up getting rejected. Insurance carriers will use various excuses to contest the compensation claim. Although some are valid, most are unfairly denied.
So, it's integral that you know why your motorcycle claim was not approved. Some of the common reasons include:
The insurance carrier argues the accident was your fault
The policy has lapsed or been canceled
The insurance carrier argues that you haven't sustained an injury from the accident
The driver isn't insured
The accident isn't the direct cause of your injuries
Can My Attorney File the Claim for Me?
Yes. A seasoned attorney knows the tricks insurance providers use and how legal procedures are set. Consult our legal team to help you compile an airtight claim that is going to be approved. A minor error can see you miss out on your deserved compensation. We will ensure due diligence is followed to ensure there are no loopholes for the insurance company to use to deny the claim.
How Can a Lewisville Motorcycle Accident Lawyer Help with Your Compensation Claim?
If you have sustained an injury in a motorcycle crash, you should consult with a skilled motorcycle accident attorney right away if you want a successful outcome. Some of the ways our Lewisville motorcycle accident lawyer at McIver Law Firm can help include:
Collect Evidence
Assess Liability
Calculate Damages
Settlement Negotiations
Take Your Case to Trial
Isn't Hiring an Attorney Expensive?
No. Actually, at McIver Law Firm, we provide legal representation on a contingency basis. You won't be charged anything for our legal expertise. We only get paid after winning the case and successfully getting you compensated.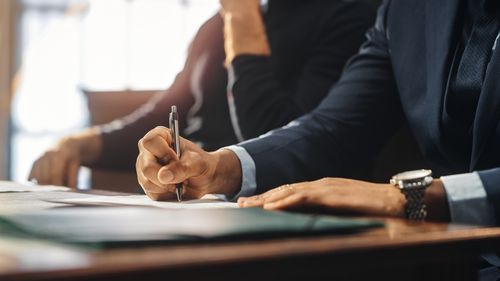 Hire the Experienced Lewisville Motorcycle Accident Attorneys at McIver Law Firm Today!
If you are looking for help navigating the motorcycle accident claims process, look no further than us at McIver Law Firm. We empathize with your situation and will offer aggressive and committed legal representation to ensure you get reimbursed and rebuild your life again.
Call us today at 336-727-9886 to arrange a FREE initial consultation!